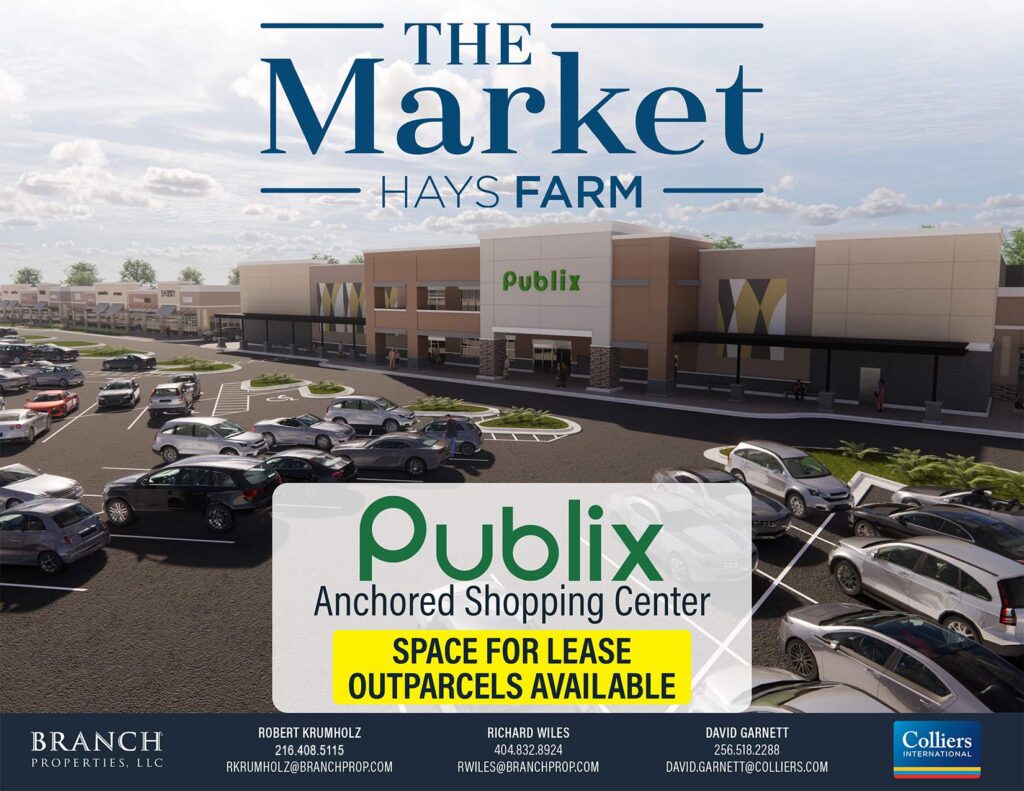 The Market at Hays Farm, part of the Hays Farm master-planned development, announces a 48,000 square foot Publix as the new grocery anchor. The Market at Hays Farm is now leasing and will be open for business in the fall of 2021. Hays Farm is a master-planned community featuring 500 single family homes, 600 multifamily units, an office park, a 400 plus acre nature preserve, 8-miles walking trails, and more.
SOUTH HUNTSVILLE – One of the most prominent vacant retail developments in the Huntsville metro area is getting a 23.5 million-dollar investment. Branch Properties is proud to announce their grocery anchor, Publix Super Markets. "This is an exciting development for South Huntsville and a welcome announcement for all those residents who have eagerly hoped for a revival of the Haysland Square property," said Mayor Tommy Battle. "This is also what happens when the City invests wisely in infrastructure that promotes planned growth and development such as the $60 million spent on the South Parkway Restore Our Roads project, the new Grissom High School, and the new Haysland Road Extension and greenway. We applaud the Hays family for seeing the promise of South Huntsville and for their investment in its success."
The Market at Hays Farm also boasts more than 150,000 square feet of small shops and junior anchor space available in addition to multiple outparcels to serve the needs of the growing South Huntsville community Executive Vice President of Branch Properties, Richard Lee, noted that "Branch has developed and owned over 45 Publix anchored shopping centers around the southeast US.
This South Huntsville Publix anchored shopping center was worked in collaboration with Lake Mary, Florida-based Tailwinds Development, which has built over 15 Publix anchored centers over the last 20 years". James Genderau of Tailwinds commented that "Publix has always been a pleasure to work with, and we value our relationship with them. Teaming up with Branch Properties to bring Publix here made perfect sense". Gendreau also stated, "John Hays and his family, who have owned the property for over 50 years, were truly the reason we made this deal happen. John is a gentleman and man of his word". According to Richard Lee of Branch, "The city of Huntsville's development staff of Shane Davis (Director of Urban and Economic Development), Kathy Martin (P.E.-City Engineer) and Jim McGuffey (Manager Planning Service), were rock solid and always had their doors open for us. This team was led by Mayor Tommy Battle who really had a vision for South Huntsville and who always has been dedicated to creating responsible sustained growth. We appreciate what Mayor Battle has helped us accomplish here."
The location of The Market at Hays Farm on South Memorial Parkway and the Weatherly/Haysland Road will be able to serve the needs of the South Huntsville community, Redstone Arsenal, as well as commuters. With the nearly completed Haysland Road extension, the Market at Hays Farm will be a focal point for a renewed South Huntsville. Since June of 2018, South Huntsville has seen 75 million dollars of private investment. With an additional thousand units at the Hays Farm development, the Market at Hays Farm and the Publix Shopping Center is an instrumental addition to Hays Farm and the South Huntsville community. "The much-anticipated Market at Hays Farm is the first of many great things coming to Hays Farm and the South Parkway", says South Huntsville Business Association Director Bekah Schmidt. "We welcome the new Publix to the South Huntsville community and look forward to small businesses and additional anchors coming to the Market at Hays Farm.
"We are thrilled for the new life coming to the former Haysland Square, said Huntsville City Councilwoman, Dr. Jennie Robinson. "The Market at Hays Farm will be the first of many great things to come on the South Parkway! Demolition will begin immediately with the center scheduled to open in the fall of 2021. For leasing information, please call Robert Krumholz (216) 408-5115 or email him at [email protected].