Welcome to
Hays Farm.
One of Huntsville's Most Unique Master Plan Communities
Build the home of your dreams in one of South Huntsville's most captivating master plan communities. Hays Farm will include over 10 miles of walking trails, a beautifully appointed city park, and plenty of green spaces for enjoying nature—all while keeping you close to your favorite restaurants, shopping, and entertainment. Come feel nestled in nature and build your beautiful South Huntsville custom home with us.
Choose Your
Home
Our on-site home builder, Hays Farm Homes, offers two beautiful neighborhoods to choose from in the master plan communitiy. Each neighborhood in Hays Farm offers a variety of lot sizes, layouts, and square footage. Click the images below for more information about each neighborhood and to start building your new home.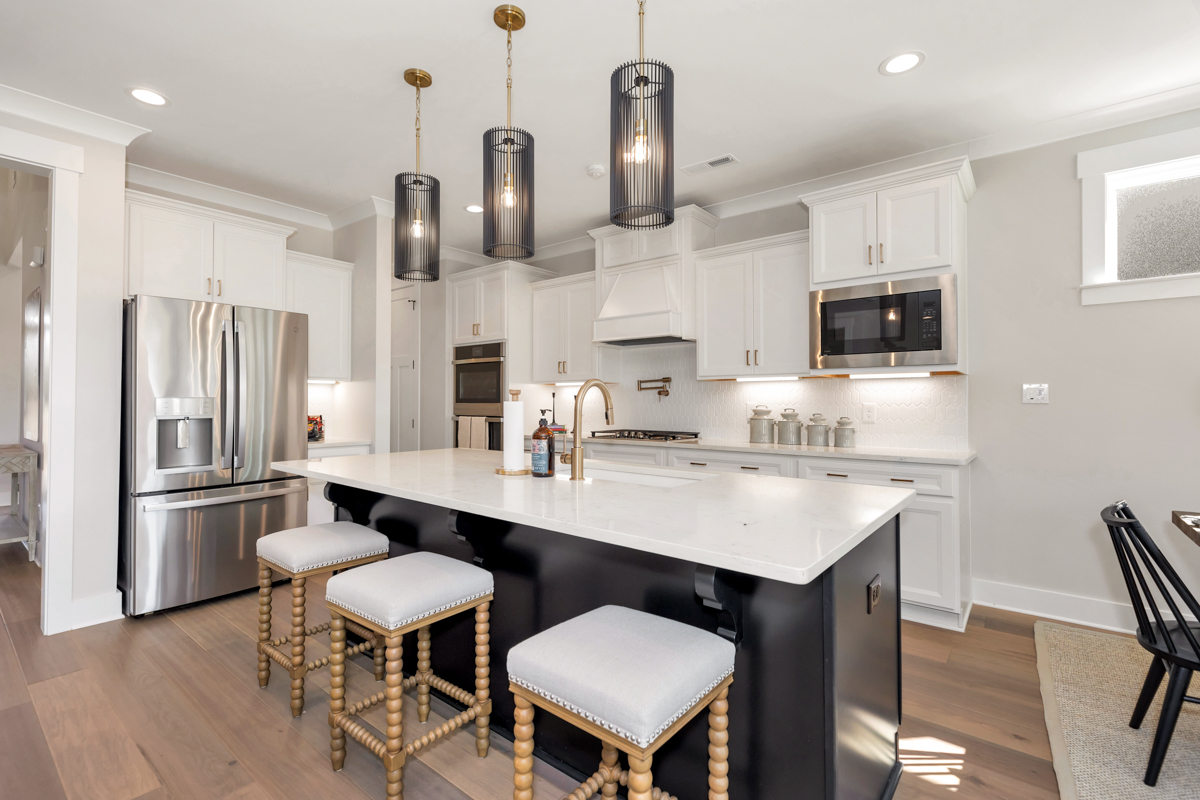 View a Virtual Tour of our Model Home
Our beautiful model home comes thoughtfully and tastefully designed by our Hays Farm in-house designers. It showcases a stunning entry wall, gorgeous and spacious owner's bathroom, and open concept living area. View this stunning home using our online virtual tour.
The
Land.
Just minutes from downtown and Redstone Arsenal this land has been farmed for well over a century. The 850 acres of forests, fields, springs, and ponds are revered as a place where a family made their home. From a blacksmith's forge to rows of peach trees, this land has been cherished. Children have wandered in the woods, fished in the ponds, and have delighted in the splendor of the setting. Around this land grew a progressive city, marked by the spirit and innovation that carried man into space. As innovation remade this city, so too it allowed this land to yield a livelihood for its people.
Today, this land is being cultivated yet again. Nearly two-thirds will remain as protected parkland. That represents 540 acres of trails, woods, lakes, and open spaces that will transform this place an enduring playground for the families of a growing region. One of the Huntsville master plan communities in the area built to last the test of time.
The
Legacy.
Home – it is a term that is imbued with meaning. Home is the place where memories are made. Home is the place where family and friends come together. Home is a quiet walk in the woods, a night under the stars watching a movie, laughter around a dinner table, a cherished heirloom passed from a parent to a child, a celebration of life's milestones.
This land has been a home to a family for over a century. They have been kind stewards of this place. The time has come for the fields and forests here to become a park for the people of Huntsville, the people who work each day to make this country great, the people who endeavor to make a life that is as rich in meaning as this setting is rich in splendor.
We envision years and years of more family memories to be made in this thoughtfully created Huntsville master plan community.
The
Lifestyle.
Hays Farm represents a balance of living unrivaled in North Alabama. Traditional retail developments will introduce stores that will redefine shopping along Memorial Parkway – a road that will truly lead to a park. At the center of Hays Farm, the Commons will emerge as a focal point for the entire community. Shops and restaurants will open onto a twelve-acre open space with waterfalls, a lawn, and trailheads that will connect to the neighborhoods and Grissom High School, one of the top schools in the state. The Commons will become a gathering place where cherished memories will be made.
A variety of home types will bring together living choices mere minutes from downtown Huntsville and Redstone Arsenal. Each neighborhood within Hays Farm will offer access to trails and an open space network that connects the community to the entire city.