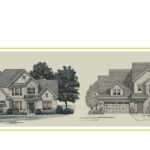 How to find homes for sale in Huntsville, AL
October 2, 2023
Why should you move to Huntsville, AL? Read on to learn some of the top reasons that make Huntsville, AL a great place to live.
Coming in at number two on U.S. News & World Report's 2023-24 list of the best places to live, Huntsville, AL is a charming southern City with something to offer for everyone. From its rich history and natural beauty to its modern economy and cultural scene, Huntsville offers a unique blend of Southern charm and innovation that is hard to find elsewhere. So, why should you move to Huntsville, AL? Here are some of the many reasons why relocating to Huntsville, AL might be your best decision.
History Meets Modernity
Located in North Alabama, Huntsville boasts a rich history that dates back to its founding in 1805. However, what makes this city truly remarkable is its ability to blend its historical roots with a modern outlook seamlessly. As you explore Huntsville's downtown, you will encounter beautifully preserved historic buildings alongside sleek skyscrapers, reflecting the city's growth and progress.
A Thriving Local Economy
Huntsville is called the "Rocket City" for good reason. It is a hub for the aerospace and technology industries, home to NASA's Marshall Space Flight Center and numerous defense and tech companies. This dynamic economy has led to job opportunities aplenty, making it an ideal place to pursue your career ambitions.
Affordable Living
Still wondering why should you move to Huntsville, AL? Consider the economy. Compared to national averages, Huntsville's living cost is refreshingly reasonable. Housing, transportation, and everyday expenses are all relatively affordable, giving you more financial flexibility to enjoy life's pleasures.
Natural Beauty
If you are an outdoor enthusiast, Huntsville will not disappoint. The city is surrounded by natural beauty, with numerous parks, hiking trails, and outdoor recreational options. And let's not forget about the Tennessee River, which offers a wide range of water-based activities for those who love to be on the water.
Mild Southern Climate
Huntsville's mild Southern climate means you can enjoy the great outdoors year-round. With warm summers and mild winters, there are plenty of opportunities for hiking, biking, and all your favorite outdoor activities.
Art, Culture, and Entertainment
Huntsville's vibrant arts and culture community is a testament to the city's commitment to the finer things in life. Museums, theaters, and galleries offer enriching experiences for all ages.
Safe City
Safety is a priority in Huntsville. With low crime rates and proper safety measures, you can rest easy knowing your family's well-being is a priority.
Why should you move to Huntsville, AL? The reasons are endless! Huntsville, Alabama, is a thriving Southern gem with a rich history, a booming economy, and a high quality of life. If you are looking for the perfect place to call home in Huntsville, Hays Farm offers a premier housing option that complements the Huntsville experience. Nestled in nature, this master-planned community will include over 10 miles of walking trails, a beautifully appointed city park, and green spaces while keeping you close to your favorite restaurants, shopping, and entertainment. Ready to explore Huntsville and Hays Farm further? Visit our website for more information, and contact us to find out more or schedule a tour.