In a progressive city, you'll often find people working behind the scenes to ensure growth occurs in a smart, sustainable way.
Dozens of people help guide Huntsville's growth. There are the volunteer members of the City's Zoning and Planning boards as well as citizens who offered input on the City's master plan, The BIG Picture. City planners, engineers and public safety leaders do their due diligence when analyzing each zoning request, plat and development plan.
There are also members of the private sector – landowners and developers – who recognize their partnership with the City will have far-reaching impacts on generations to come. Huntsville's Hays family is one such example.
"They're one of Huntsville's foundational families," Mayor Tommy Battle said. "They really have the foresight to look into the future and see what is needed for both growth and quality of life."
Progress through generosity
If the Hays name is familiar, it could be because the family's gifted more than 1,300 acres of land and millions of dollars in infrastructure improvements. These gifts to the City were used for new schools, including Hampton Cove Elementary School and the new Grissom High School, rights-of-way for multiple major road improvement projects, a police K-9 training facility, water treatment plants, public nature preserves, parks and fire stations.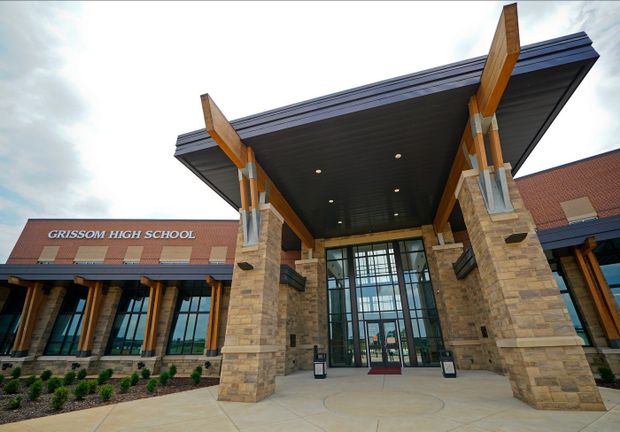 "They were truly the catalyst for the Hampton Cove community," said Shane Davis, Huntsville Director of Urban and Economic Development. "During the early development of Hampton Cove, the Hays family realized that public services and amenities were needed in this part of Huntsville to ensure the long-term success and stability of Hampton Cove.
"Their support with the plan to build sewer infrastructure not only facilitated robust residential development, but also the construction of new schools, a recreational complex, the Robert Trent Jones golf course and fire station. Those factors and the Hays family's involvement were instrumental to the residential and retail growth we have today."
One of those land donations led to the creation of the J.D. and Annie S. Hays Nature Preserve at Hampton Cove. The 538-acre wonder, which boasts 10-plus miles of trails and greenways that follow the Flint River, is fittingly the site of the City's annual Earth Day Festival.
The family's devotion to Huntsville's progress is at the forefront again with the announcement of the 500-acre Hays Green Park System. The system, which includes a ballpark complex, nature park and preserve, and an urban park, will offer more than 10 miles of walking trails and 65 acres of lakes.
The park system complements the Hays Farm development, developed by brothers John and Jim Hays and the first to bear the family's name. In addition to 1,000 residential units, it includes the renovated Haysland Square development that provides 200,000 square feet of commercial space.
A 'shot in the arm'
Mayor Battle said the new Hays Farm Master Planned Development mirrors what the Hays family successfully accomplished in Hampton Cove over 20 years ago. He added the Hays family saw that South Huntsville needed a "shot in the arm, post recession" in terms of new residential and commercial development that could also offer additional quality-of-life amenities for the community.
"The Hays family brought residential development with an outdoor recreation and golf component to Hampton Cove and people were excited to be a part of that," he said. "They illustrated how a first-class community should come together."
The Hays Farm development and park system are a unique addition to South Huntsville because – like Hampton Cove – its boundaries offer options for all residents.
"We're developing a new park system with adjacent office and retail uses as well as an urban feel residential community that is all interconnected through a system of greenways, and we've got the infrastructure in place to support it," Davis said. "As we continue to grow, it's important we distinguish between growth and quality growth. This development is a great example of quality growth that connects existing well-established neighborhoods to new development.
The key to success with projects like these is having community partners, like the Hays family, that understand donating land, in-kind services and even investing their private funds into public amenities ensures a quality community."
Dennis Madsen, Huntsville's Manager of Urban and Long-Range Planning, said the Hays Farm development also demonstrates the City's multimodal transportation goals because it will be friendly to both pedestrians and bicyclists.
"When you consider what people are drawn to, many want to live in a community where you live, work and play and can easily reach those amenities without having to drive," he said. "You have all those elements located within the Hays Farm community, and many of those same elements help form our long-range goals for the City."