A new mural celebrates 2020 graduates. Made possible by the generosity of long time South Huntsville Resident John Hays and created by local artist, Sarah Finlen, the artwork honors graduates and their momentous accomplishments.
SOUTH HUNTSVILLE – A new mural in South Huntsville celebrates the Class of 2020 during COVID-19. The artwork was sponsored by John Hays, a long time South Huntsville resident and property owner for Hays Farm.
Part of the master-planned community Hays Farm, The Market at Hays Farm will soon be taking the place of Haysland Square on South Memorial Parkway and Haysland Road. A quarter mile away from Grissom High School, the mural is located on the south end of the former Haysland Square. With the COVID-19 pandemic, the demolition of the former shopping center has been delayed a few months. However, the delay provided Mr. Hays with the opportunity to celebrate the Class of 2020 in a unique and touching way, through a piece of artwork dedicated to this year's graduates.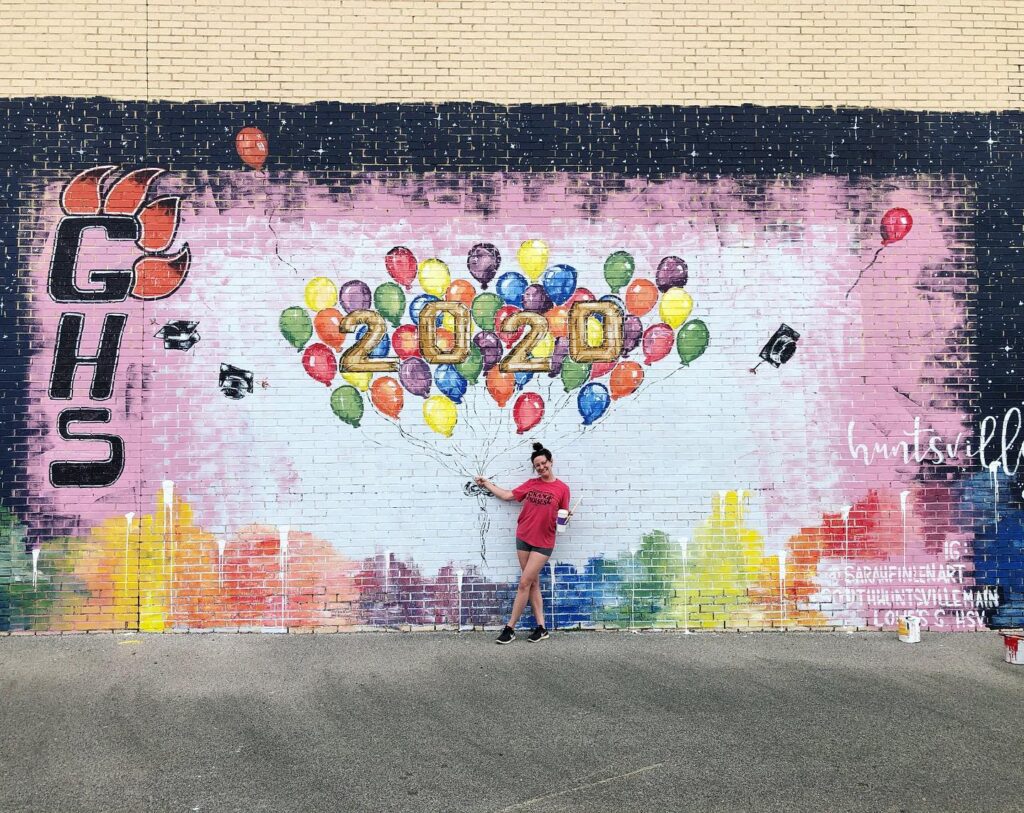 ABOUT THE ARTWORK – The vision for this mural was to give graduates the feeling of "The Sky is the Limit" – because it is! All interactive features of the artwork are designed to allow for social distancing. The balloons lift you up and give you the boost you need to take the leap to the rest of your life. Shoot for the stars, grads! It is beginnings, meets science, meets art, meets beauty, meets the tradition of our beautiful city in the space program. Whether you are a kindergarten, middle school, high school, college or Ph.D. graduate, this mural is a love story to you. We know that 2020 graduates aren't having the typical graduation experience this year, but they deserve to be celebrated in a big beautiful way, which was the goal with this mural.
John Hays shared, "This year's senior class has shown great resiliency through COVID-19. We know their graduation isn't going to be the same but we still wanted to celebrate their accomplishment in a meaningful way. I am grateful for the opportunity to provide our seniors with artwork dedicated to them, and wish them the best of luck in their future endeavors."
Bekah Schmidt, Executive Director of the South Huntsville Main Business Association said, "This mural illustrates how the Huntsville community comes together in times of uncertainty to lift one another up in creative and innovative ways. From the generosity of Mr. Hays to commission the artist and provide the space, to our Lowes store donating the paint, and Sarah Finlen, a local South Huntsville artist giving of her time and talent, and the Grissom PTA who is organizing senior pictures, so many people came together to make this mural possible for the Class of 2020. To all of our graduates this year – the future is yours! Congratulations!"
Sarah Finlen, the artist behind the mural, shared a message to graduates, "I have been blown away by the love and support of the community on this piece, and it brings me joy to bring joy to Grissom High School and other Huntsville graduates! My message to grads is this – say "YES!" when you are given the chance to do something the challenges you, scares you, excites you. Give it that shot! You never know where it will take you. CONGRATULATIONS Class of 2020!"
ABOUT THE ARTIST – Sarah Finlen is a stay at home mommy to two girls Collins (6, almost 7!) and Laurel (4), and two crazy puppies. My husband, Ryan, has been out at the mural almost every day with me, supporting and helping. We have been Huntsville residents for 8 years and love everything about this community and have made lifetime friends. My art journey really took off after the birth of my first child, creating pieces for my own babies and then my friends' and family's new babies' nurseries. After a lot of nudges and support from wonderful friends, I took the leap and started posting work on social media and it took off from there! One half of my brain loves all things color and abstract – while the other half loves all things soft and symmetrical. Depending on my mood, you will see bright florals and abstracts; or neutral hand-lettered work and soft rustic pieces. My art is my therapy, and is as much for my mental health as it is to bring beauty to the world."
ABOUT SOUTH HUNTSVILLE MAIN – The South Huntsville Main Business Association is a designated Main Street Alabama community, building a vibrant South Huntsville. For more information visit southhuntsvillemain.org.